---
Coinbase COO and President Asiff Hirji in a conversation with Bloomberg stressed that in the near future, the company does not plan to participate in the initial public offering (IPO).
According to Hirji, Coinbase might run an IPO sooner or later, but this issue is among the company's priorities. We note that the other day the suggestion that Coinbase could be preparing for an IPO was expressed by CNBC moderator Ran Neuner.
Hirji made a statement shortly after Coinbase successfully completed another round of financing, following which the company raised $ 300 million from Combinator Continuity, Wellington Management, Andreessen Horowitz, Polychain and several other companies. Headed round the E Series by American hedge fund Tiger Global Management. According to experts, the current capitalization of the largest US cryptocurrency company now exceeds $ 8 billion.
The Block gives some financial figures for Coinbase. So, by the end of 2018, the company's projected revenue could reach $ 1.3 billion, profit – $ 456 million.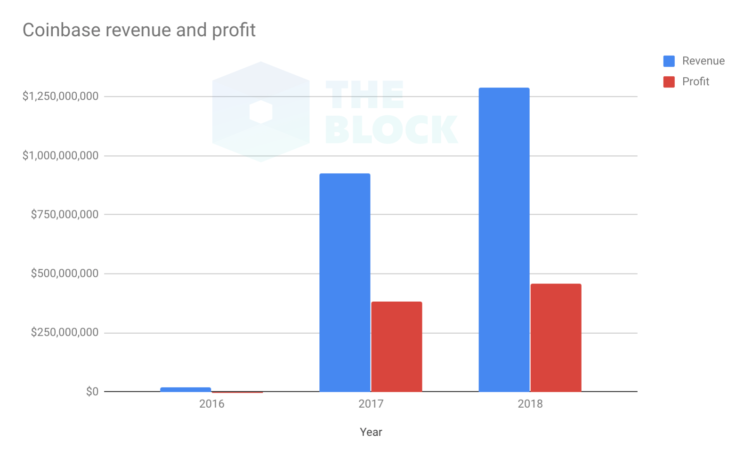 For comparison, last year Coinbase received $ 923 million in revenue, and profit was $ 380 million.
Thus, despite the bear market, compared with last year, the projected growth in company revenues will be 40%, and profits – 20%.
The predicted profit margin (profitability ratio, calculated as the ratio of net profit to revenue) of the company this year may be 35.3%. At the same time last year this figure was 41.2%, and a year earlier – 94.1%.
The decrease in this indicator may be associated with an increase in labor costs. Thus, during the year, the number of Coinbase employees has doubled – from 250 to more than 500 by now.
Considering that since the beginning of the year, most cryptocurrencies have fallen in price by more than 70%, it can be assumed that the lion's share of the company's income was provided by transaction commissions. However, according to research firm Diar, Coinbase trading volumes are steadily falling.
According to The Block analyst Larry Zermak, if the bear market drags on, the company will have to significantly diversify its sources of income and lines of business. Otherwise, the continued downturn in the market may ultimately have a negative impact on the financial performance of Coinbase.