---
While the market is experiencing a moderate recovery after a new fall on Sunday, at least one coin showed a significant growth. Thus, Factom cryptocurrency, that has 45th place by capitalization, after adding to the Japanese bitcoin exchange Coincheck over the past day has increased in price by 39%.
At the time of publication, Factom is trading at around $ 11.87, up from $ 8.67 a day earlier.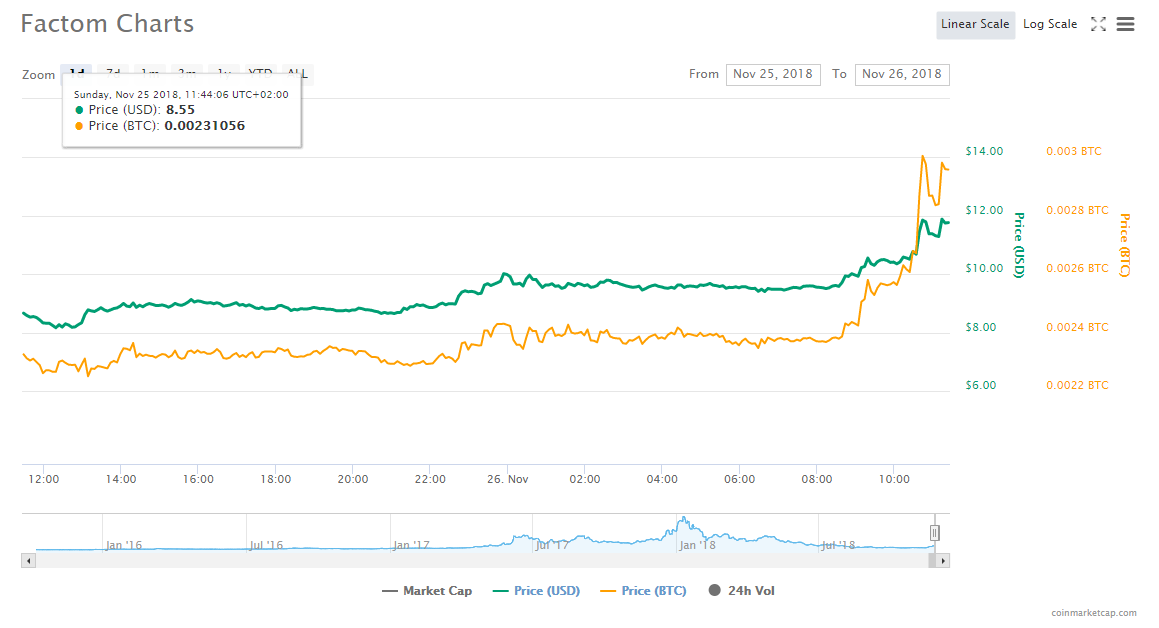 One of the main factors behind this growth is supposed to be the addition of FCT to the Coincheck Stock Exchange, which, after hacking and large-scale theft of funds earlier this year, resumed full-scale trading in all available assets.
Simultaneously with Factom, the exchange added support for Ripple (XRP), but the latter's growth is within the general pattern observed on the markets on Monday morning.
It is worth noting that Factom has been demonstrating impressive dynamics over the past few months, having managed, obviously, to give investors a rare reason to be optimistic lately.
Also among the latest news was the news of the partnership between Factom and Medicine Ventures, the investment division of Overstock. The latter, as it became known recently, plans to focus exclusively on blockchain projects, and the inclusion of Factom in the list of partner companies may have a further positive impact on the price of this cryptocurrency.
ファクトム pic.twitter.com/T5uJ8wJTsC

— susuvanK すすばんく_仮想通貨 (susu) (@iias2008) November 25, 2018
Earlier this year, Factom closed the investment round of Series A, during which it raised $ 8 million. In addition, the blockchain-based startup in Austin, Texas, won a grant from the US Department of Homeland Security.