---
The creator of Telegram, Pavel Durov, filed an application for the liquidation of Telegram Messenger LLP, which was used as the main legal entity for the messenger. The relevant documents are published in the British State Register.
In a statement signed on December 19, 2018, Durov asks to terminate the registration of Telegram Messenger LLP, removing it from the registry.
In response, the British Trade Register warned Pavel Durov that after the liquidation of the right to the company, the British crown would be transferred.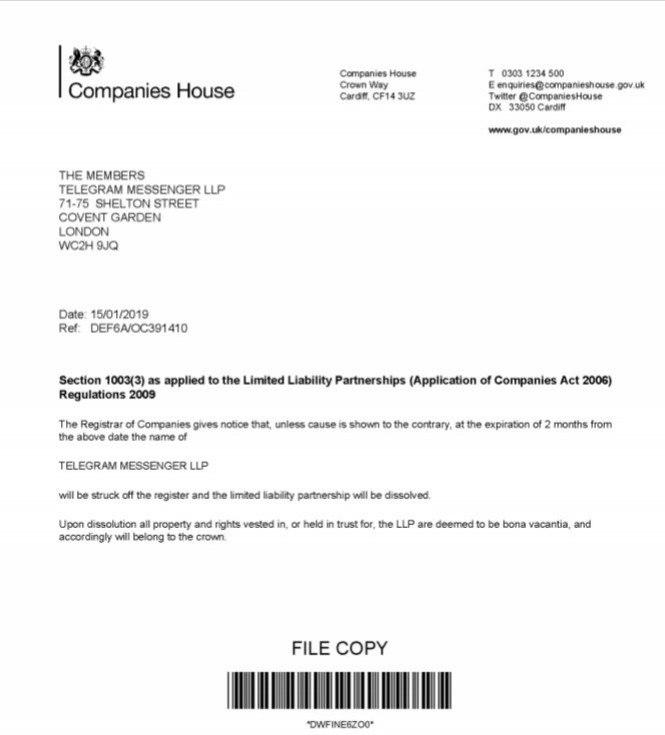 "After two months from the date specified above, Telegram Messenger LLP will be deregistered, and the limited partnership will be dissolved. After the dissolution, all property and rights with which the LLP is vested with or in trust, are considered ownerless property and, accordingly, belong to the crown, " – the text of the document says.
Despite the fact that Pavel Durov himself has not yet commented on this situation, according to the partner of the law firm SILA International Lawyers, Yuri Zaitsev, his decision concerns only a change in the corporate structure.
"It is possible that another company was registered for this purpose in the same or a different jurisdiction. It is a question of voluntary liquidation, it is unlikely that it can entail the abandonment of a business in which a lot of money has been invested, " – he told the Mash telegram channel.
Telegram Messenger LLP was established on February 21, 2014 by Dogged Labs Ltd and Telegraph Inc. In May 2018, instead of Dogged Labs, Telegram Messenger Inc. became a co-owner of the company. According to the data for the fiscal year ended February 28, 2017, the company's operating loss was £ 1.491 million, administrative expenses – £ 127 thousand.
In addition, in 2018, Telegram in the course of two rounds of the closed ICO raised $ 1.7 billion to develop the Telegram Open Network blockchain platform.